Yet another mixed and flat day for stocks as the quiet, light volume trading continues on Wall Street. The Dow lost 2-points, the S&P gained 3, and the Nasdaq lost 3, and the Russell 2000 lost 39 cents. It's been a yawner this week with earnings winding down, the impeachment hearings going on, the China trade deal appearing good but in limbo, and interest rates down, but not going lower.
| | | |
| --- | --- | --- |
| Daily TSP Funds Return | | |

The S&P 500 made a new closing high yet I'm actually trying to look for positives as some of our indicators look troublesome. Yes, some indicators have come off their extreme overbought conditions while the indices consolidate around the all-time highs, and that seems positive, but on the other hand the indicators also show some internal weakness despite those new highs and less sophisticated investors may not be seeing those warning signs.

sentimenTrader pointed out that we got some of our old favorite warnings signs triggered with both a Hindenburg Omen and the Titanic Syndrome signaling this week, and there have been 6 signals triggered in the last 7 days. That suggests that many individual stocks are performing more poorly than the indices are indicating.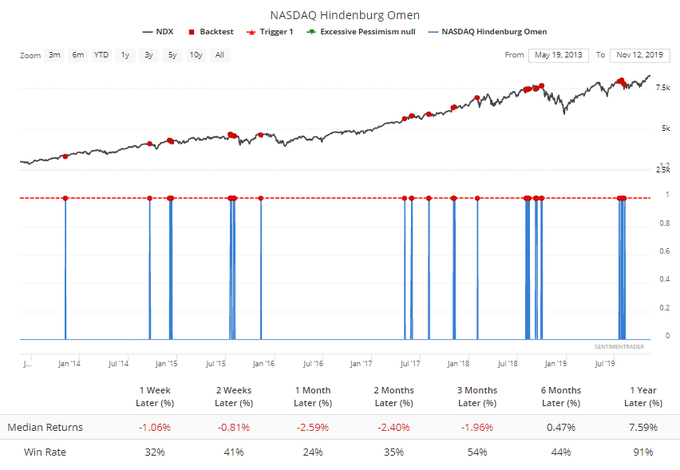 Source: https://twitter.com/sentimentrader/status/1194748214248984577

---
The S&P 500 (C-fund) made another new closing high on Thursday, and the angle of incline seems to have shifted to a more reasonable slope, but it is still a vulnerable formation since "F" flags do tend to break down. An F-flag, meaning a slightly upward slope as compared a bullish bull flag which slope downward while consolidating.





The S&P 500 is about 183-points above its 200-day EMA. We've seen it a lot more extreme readings in prior years, but in 2019, 200-points above the 200-day EMA has been about as far as it has gotten before we started to see some profit talking.





The S-fund is still trying to form some kind of bullish flag but it is also struggling to breakout and appears vulnerable to a flat top breakdown.





The Dow Transportation Index bounced back after several bad days coming off that failed breakout. There's an open gap near 10,750 that may need to get filled, but also some rising support that may try to hold it above that gap.





The EFA (I-fund) has been drifting lower since its high earlier this month. There is a lot of room on the downside within that blue large rising trading channel, and there are some open gaps that still need filling.





A little follow-through on oil and copper which were both down again yesterday - oil is still holding near its 200-day EMA, but copper has been breaking down and yesterday if fell below the 50-day EMA





The AGG (Bonds / F-fund) popped above the 20 and 50-day EMAs with Thursday's rally and that's a show of strength in this market that has been going nowhere for a few months. That 113 area may be tough to crack if it can continue to move higher, but that bullish blue flag formation suggests it may be possible.





Read more in today's TSP Talk Plus Report. We post more charts, indicators and analysis, plus discuss the allocations of the TSP and ETF Systems. For more information on how to gain access and a list of the benefits of being a subscriber, please go to: www.tsptalk.com/plus.php

Thanks for reading. Have a great weekend!

Tom Crowley

Like what you're seeing on TSP Talk? Why not Tell a Friend about us? We'd really appreciate it, and they may too. Thanks!

The easiest way to print this commentary is to copy and paste above into a document like Word.